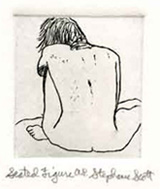 Seated Figure
Etching and Engraving.
Plate size 1 11/16  x  1 1/2 inches.
Sheet size app. 4 1/2  x 4 1/2 inches.
Signed in pencil.
Printed by the artist.
Edition of 75.
Click on image for different view.
Product Description
This etching was drawn from a model at a drawing session at San Francisco Art Institute.