The original print was made in 1970 by Stephanie.
Now re-drawn and re-engraved for a New 2013 Edition –
by Stephanie Scott
 If you remember San Francisco from those days, you will remember the Old Spaghetti Factory
Flamenco Dancing in the Garden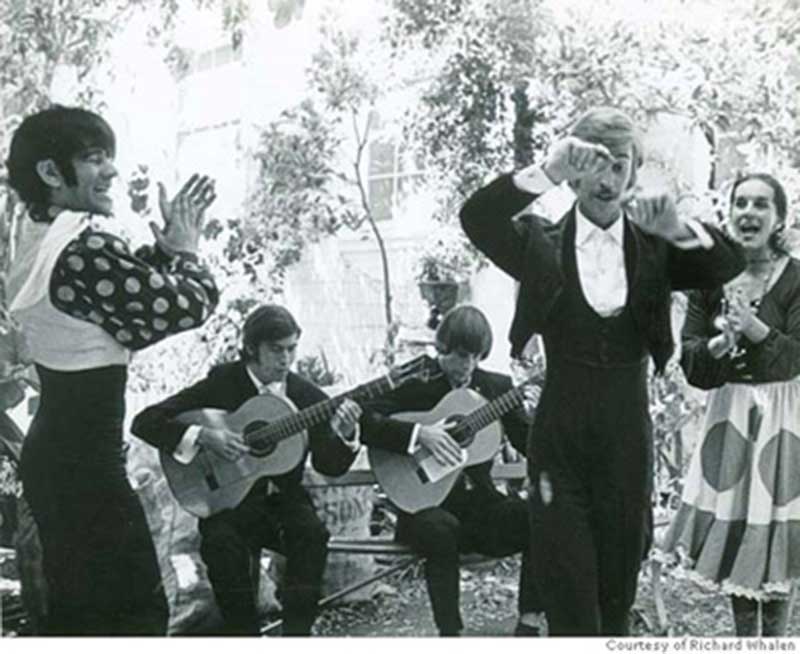 Inside the Old Spaghetti Factory – Around 1970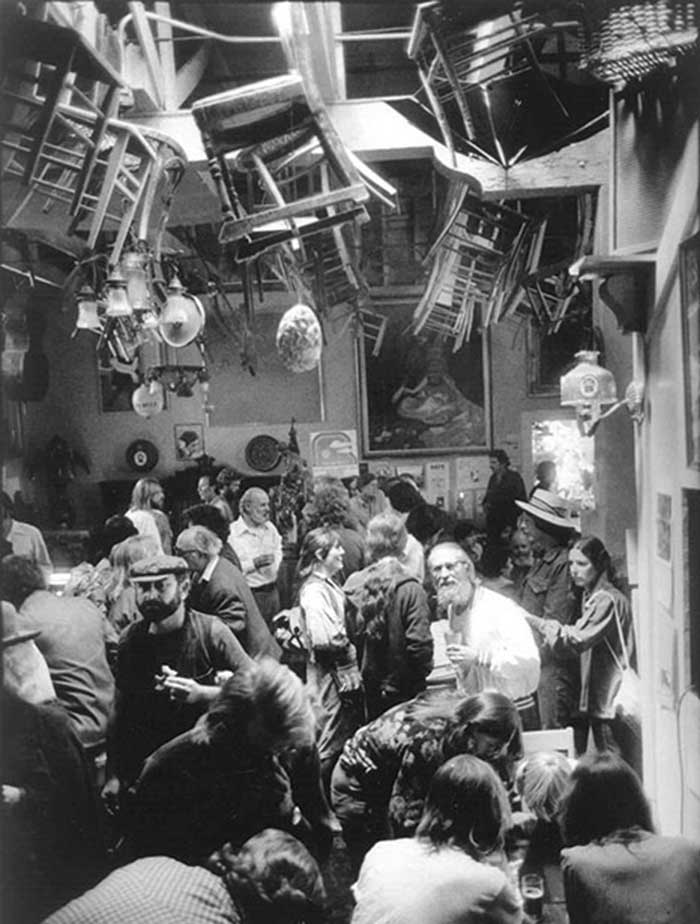 The following article By Katherine Petrin discusses The Old Spaghetti Factory This  is the  first  in a series  of articles on  North Beach's landmark buildings.
Imported olive  oil and cheese warehouse, seltzer water bottling plant, cabaret, art gallery and restauant — how many lives may a building have? Consider this question as you pass by San Francisco Landmark No. 127 at 478 Green Street. Within North Beach there are a number of designated landmark buildings and sites. Some of these are quite well-known and easily recognizable, such as Coit Tower, St. Francis of Assisi Church and Washington Square. Because buildings, objects  and sites can be landmarked for historic significance or other reasons, not only for impressive architecture, the landmark status of an unassuming building might come as a surprise to some readers.
One such building is the Old Spaghetti Factory, a former industrial structure at 478 Green St., between Grant and Kearny, San Francisco Landmark No. 127. The building is currently occupied by Bocce Café and Maykadeh restaurant. The construction date of this building can be traced to the immediate post-earthquake and fire era. Its first owners, the Granucci Bros., were importers of olive oil and cheese. In 1911, it operated as a seltzer water bot- tling plant. Later, Baccigalupi, Casaretto & Demartini, proprietors of the Italian-American Pasta Co., operated a pasta factory there from 1912 until 1955. Built by contractors Saraille and  Lagomarsino, this three-story building was built as a factory and warehouse. It was not architect designed. The utilitarian, wood-frame structure measures 48 feet in height, has horizontal wood siding, and 4-over-4 double-hung windows. As an industrial building, it was built for function without ornamental detail typical of the era or even a cornice. Unlike all other buildings on the block and most in the neighborhood, the Old Spaghetti Factory building is detached, set apart from neighboring buildings with open passages on the east and west sides. Manufacturing facilities were often built as stand- alone structures to facilitate access and the delivery and shipping of materials and goods. Of greater importance, within a predominantly residential neighborhood, the increased risk of fire in industrial settings and the fear of it spreading to adjacent structures meant that industrial buildings were often detached. In the 1950s, a major fire occurred in the pasta factory. It was renovated and sitting vacant when entrepreneur Frederick Walter Kuh saw it in 1956. Freddie, a Chicago native  and former resident of Paris, was then a waiter and bartender at the Purple Onion. He jumped at the chance to take over the raw space for a rent of $300 a month. Within the former industrial facility, Freddie opened the Old Spaghetti Factory and Excelsior Coffee House, launching a new and colorful chapter in the building's history. Freddie referred to himself as a "Bohemian businessman." His operation — cafe, restaurant, theater- cabaret and art gallery — was a "smash" from the day it opened, according to newspaper accounts. Also inside was the "Kuh Aud.," an auditorium or open space for cabaret and musical performances, and the adjoining Flamenco Theater, a replica of an Andalusian café that operated for more than 20 years as a showcase for Flamenco dance, song and guitar. A  1979  article in  the  San  Francisco Sunday Examiner & Chronicle quoted former employee Becky Jenkins as saying that Freddie was sharp at spotting talent and good people. He made the Factory into a haven for homosexuals in the days before there was a gay rights movement. Freddie thrived in the outrageous environment that was the Old Spaghetti Factory, creating a place that was more of an "orphanage commune" than a restaurant.
Some of Freddie's  loyal staff were archly referred to as "otherwise unemployable." The Factory was a true original, appreciated for its eclectic décor, Bohemian clientele, affordable pasta fare, live entertainment, funky vibe and high-spirited staff. The place was furnished with items from Fred's personal collection of Victoriana, random kitsch, architectural castoffs and paintings and sculpture done by friends. Musicians who played at the Old Spaghetti Factory Former site of Old Spaghetti Factory today. photo: Julie JAycox included Arlo Guthrie, the Congress of Wonders, Dino Valente, Ramblin' Jack Elliot and Dan Hicks and His Hot Licks. The Factory survived until 1984, the year Freddie sold the business. The  memorabilia and furnishings of the Old Spaghetti Factory were offered through an onsite auction by Butterfield's  the same year. From 1956 through 1984, the Old Spaghetti Factory was North Beach's hub of artistic activity, opera, flamenco and cabaret, attracting artists and writers, neighbor- hood folks, Bohemians and Beats. (And, yes, a film has been made. Look for the next screening of " The Old Spaghetti Factory" (2009) by filmmakers William Farley, Mal Sharpe and Sandra Sharpe.) It was designated San Francisco Landmark No. 127 in 1981 on the basis of its significance as a cultural and social center in North Beach. The landmark case report further stated that "the  Beatnik era was born in the district and its leaders very quickly  associated themselves  with the  Spaghetti Factory; Ferlinghetti and Ginsberg in poetry and Kerouac in prose." Other notable individuals from the arts who have been associated with the Old Spaghetti Factory are photographer Jerry  Burchard, the Kingston Trio, flamenco dancer Cruz Luna, Richard Brautigan and Robin Williams, to name a few.
The Old Spaghetti Factory was also considered to be significant as a successful example of an adaptively reused building, converted from industrial use to a cafe, cabaret and restaurant. During the designation process, Landmarks Preservation Advisory Board member Jean Kortum said," There is hardly anyplace more indigenous to the culture of North Beach than a pasta factory."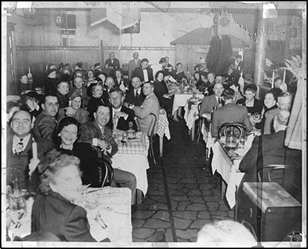 Interior of Old Spaghetti Factory, c. 1950s photo: courtesy sAn FrAncisco history room, sF public library
The photo was taken in the Spaghetti Factory Garden Where Stephanie's etching was drawn – But at a time where people dressed a lot different than you see here… Beatniks and Hippies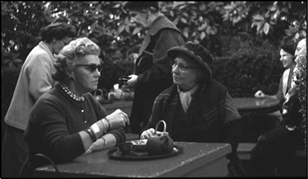 Old Spaghetti Factory courtyard, c. 1950s photo: courtesy
San Francisco history room, AF public library
Former site of Old Spaghetti Factory today.
photo: Julie JAycox