Fall Schedule 2014



[divider_flat]
Dear Continuing or Prospective Student:
[twocol_one]
I am in Milledgeville, Georgia, my home town, where my art show with over 100 pieces, "A Retrospective, Etchings and Paintings, by Stephanie Scott Spanning 47 Years" opened on Sunday, September 7, with a lovely opening and a lot of people!!   I return in about a week, after my 50th high school reunion (and a second reception for my show).
Had a good response and a wonderful time teaching the Albany Watercolor Tricks and Techniques class.  Thanks to all who were able to participate!    Beginning in October, I will offer two Albany classes:  Beginning/Continuing Watercolor at the 12:00 to 3:00 time slot and and an evening class, Drawing with Pen, Ink and Brush from 6:30 to 9:00 p.m.
As usual, anyone who is a returning student or who recruits a student to a class gets a free gift. Advanced students or students who have taken previous classes with me can work independently in their choice of media in any class with individual help. Note: you do not have to be a "senior" to sign up for these classes.
If you are interested in one of these upcoming classes, please register as soon as you can, since classes must meet minimum enrollment in order to be held. Registration is sometimes possible at the class but only if enough students have registered before class start date, so the class does not cancel.
[/twocol_one] [twocol_one_last]
Check back with my website periodically. I may offer other classes in other locations or private/semi-private instruction in my studio in Walnut Creek. Hope to see you in class and have a wonderful Fall!
Listed below are course descriptions for the Fall classes I am scheduled to teach and the class schedules for classes through the  City of Albany – Recreation and Community Services Department.
Feel free to email or call me if you have any questions: Email: StephanieScottArtist@yahoo.com
Studio/Office ( 925) 256-4093 (after 9/23)
Cell (925) 352-4852
Best Wishes,
Stephanie
NEW at Etsy.com     Store name:  StephanieScottArtist
[/twocol_one_last][divider_flat]
 
Beginning/Continuing Watercolor
Open to all levels and ages.  Beginning students will learn basics of watercolor painting, including mixing and applying washes, use of color, value, line, shape, form, light, rhythm, and texture.  Beginning students are shown specific exercises to learn color mixing and paint handling after which they work on subjects of their choice.  Advanced students can work in watercolor or their choice of any drawing/painting media & instructor works with them individually.  Students are encouraged to create visual richness by developing the thought and feeling in their work.  Basic drawing, composition and a special, easy method for achieving matting/framing very economically will be taught to all.  Students should bring whatever supplies they already have to first class where materials will be discussed and list handed out. Students supply their own paint, brushes & paper.  Instructor will supply special materials.  $4 materials fee due at first class.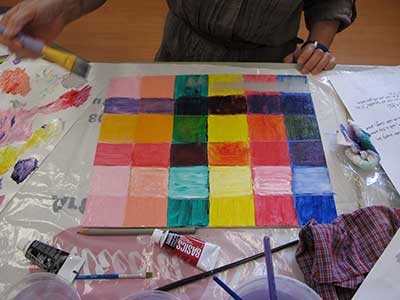 Drawing with Pen, Ink and Brush
Open to all levels and ages. Pen, ink & brush is an inexpensive, versatile, easy-to-use drawing media, that can resemble an intricate line drawing etching or a painting in black and white.  Working in black & white is good training for painters in learning to see and build strong value structures in their compositions.  Techniques such as free-flowing pen and brush lines and shading with cross-hatching, stippling, and wash to achieve a range of values on the gray scale will be taught using a variety of approaches and exercises.  Students will learn of an easy, economical way to mat and frame finished pieces.  Advanced students or those who have taken a class with Stephanie can work in their choice of any drawing or painting media, with instructor working with them individually.  Students will supply their own pens, ink, brushes and lightweight paper.  The instructor will supply special paper, other materials and will contact students regarding supplies.  $4 materials fee due at first class.
Stephanie's Fall Art Classes Schedule

City of Albany Recreation and Community Service
Noon Class

Class: Beginning/Continuing Watercolor

Registration
Dates, Times, Classroom Locations
Cost
Register for this class :

In Person
Cash, Check and Mastercard/Visa accepted.
Albany Senior Center
846 Masonic Avenue
Albany, CA 94706
 
By Telephone: (510) 524-9122 or (510) 524-9283 or (510) 559-7225)
Online  www.albanyca.org/onlinereg
By Mail The Fall Activity Guide for the City of Albany Recreation and Community Services program is available in print and online at www.albanyca.org/onlinereg (Go to the Recreation Dept. page and find the Activity Guide. In the Guide, find the Registration Form near the back of the guide and my classes & info are closer to the front.) Sign the Registration Form and mail it with your check or credit card information to the Albany Senior Center.

Online registration is open at:  www.albanyca.org/onlinereg

Tuesdays

8 classes:
October 7, 14, 21, 28, November 4, 18, 25, December 2, – No class on Nov. 11 (Veterans Day) 2014
Time: 12:00 to 3:00 p.m.

Location: Multi Purpose Room
Albany Senior Center
846 Masonic Avenue Albany, CA 94706
(510) 524-9122

Enrollment: Minimum:4 Maximum:20

(Plus in-class materials fee of $4)

City of Albany Recreation and Community Service
Evening Class

Class: Drawing with Pen, Ink and Brush

See City of Albany Registration information above
Tuesdays

8 classes:
October  14, 21, 28, November 4, 18, 25, December 2, 9 – No class on Nov. 11 (Veterans Day) 2014
Time: 6:30 to 9:00 p.m.
Location: South Room Albany Senior Center 846 Masonic Avenue Albany, CA 94706
(510) 524-9122
Enrollment: Minimum:4 Maximum:20

(Plus in-class materials fee of $4)