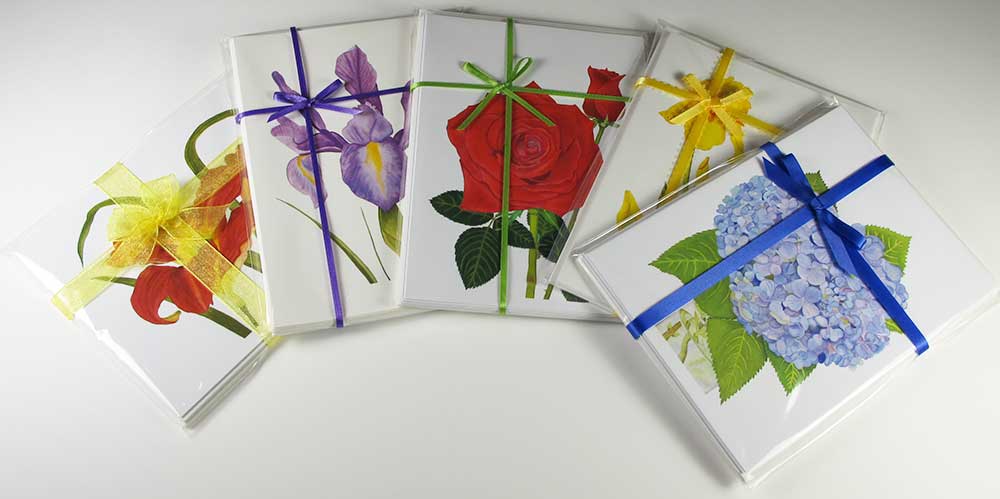 Beautiful small gifts with a personal touch and priced right.

Order Online or Call 925-256-4093
Your Solution of "What to Get to Give."
Four Cards and Envelopes in Each Packet.
With a personal hand-tied matching ribbon.
Beautiful, special, small personal gift.
Doesn't even need gift wrapping.
Works great to give in person.
Also very easy to mail.
FREE SHIPPING TOO.
Express your Sentiments 
Hostess and visitor gift – when you go to a party or dinner bring one or a few of these.
Teacher gift – for one teacher or the staff
Friend and neighbor gift – 
Fellow worker gift
Garden lover gift,
With so many great small gifts on the Internet and in stores to choose from, why not, this year, solve your gift giving with Stephanie's Ribbon-tied Four Card Note Packets.
You can't go wrong – The Packets are Beautiful and a Perfect Small Gift. And, you can depend on Stephanie & me to personally take care of your order.
Beautiful hand-tied ribbons' details in the video below.

[video_lightbox_youtube video_id="glwmhgL8HKI" width="640″ height="480″ anchor="click here to open YouTube video" auto_thumb="1″]
Example Flower – Gift packet features.

[video_lightbox_youtube video_id="awUAcl0oaQY" width="640″ height="480″ anchor="click here to open YouTube video" auto_thumb="1″]
 
Get a Bunch of Them and Receive a Real Discount

USE THIS COUPON CODE AND GET ANOTHER 20% OFF THE PRICE BELOW
(Good till January 31, 2019)

christmas2018

Mix and Match the Designs

Number of Packets

1-5


6-10


11 – 19 

20 +

Packet Price

$9.95

$8.95 

$7.95 

$7.45

Card Price Ea.

$2.45 

2.24 
1.99 
1.86
Have Fun Mixing and Matching Them
They all add up for the discount.

From Stephanie Scott's Little Studio
Click on each item to see it enlarged.
The Holiday Flower Designs

All Twenty Different Flower Designs

Testimonials