Available in Six Different Flower Designs. Scroll Down To See Them.

This bundle beauty says beautiful gift over and over. First there is my gorgeous double mat, beveled, hand-signed and titled floral print with its self-standing easel. Then the ribbon-tied 4 card gift packet. And finally, there is a gift enclosure card for you to pen a message to the lucky receiver. You will take pleasure in giving this three part gift to any flower lover.  And its so easy to send or wrap.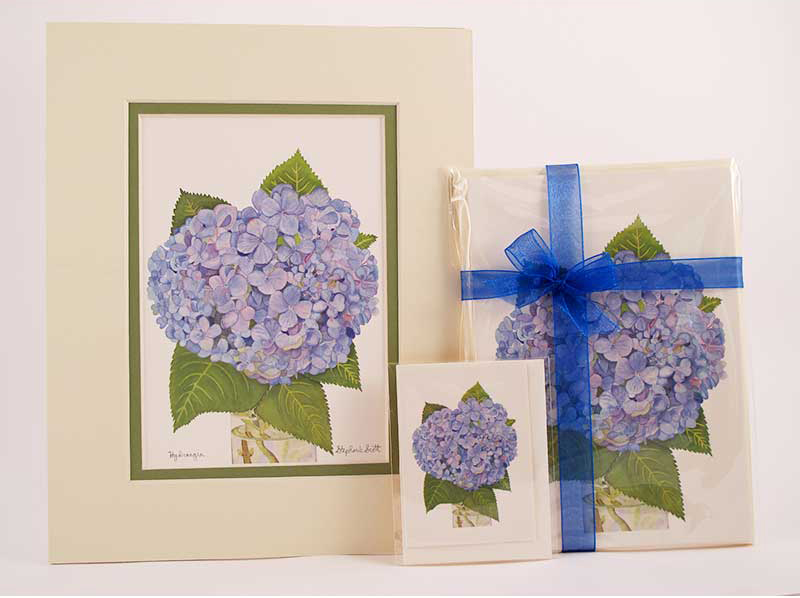 And it is priced right making it perfect to give to any flower lover.
The combination gift gives you a discount of 20% off compared to buying single items
Package Price – $28.35
Matted Print – $24.00
4 Card Gift Pack – $9.95
Enclosure Card – $1.50
Total Value – $35.45
Savings – $ $7.10
Why is did I name it a "Bundled Beauty Three Piece Floral Gift?
All the pieces comes bundled in a clear plastic sleeve.
All three together look fantastic and makes it super easy for you can gift wrap it or just send it " as is" in a standard mailer.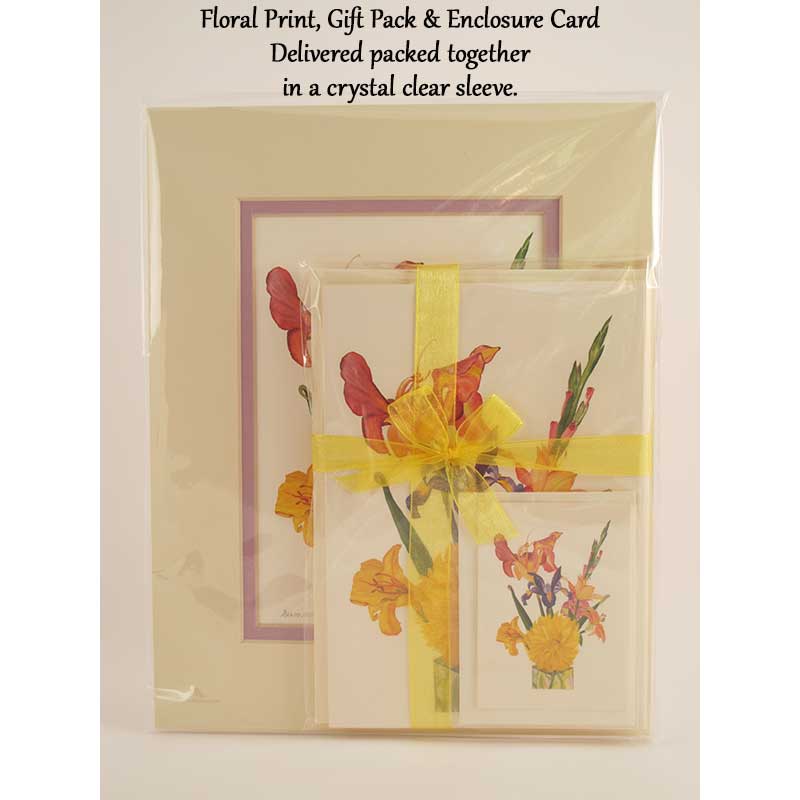 Each Bundled Beauty Floral Gift Contains Three Three Gift Items

Double Matted Print,
Hand-signed and Titled
Mat Size: 8″ x 10″
Outer mat is cream
Inner mat is gold
Hand-signed & titled by Stephanie
Matching Floral Notecard 4 Card Gift Pack
Beautiful hand-tied ribbon
Cream Notecards – 5 x 7 with matching envelope
Matching Floral Enclosure card in a plastic sleeve.
Size: 3 1/4 x 2 3/8
View video and see features of this combination gift

[video_lightbox_youtube video_id="M0RHcHqj_sU" width="640″ height="480″ anchor="click here to open YouTube video" auto_thumb="1″]
[video_lightbox_youtube video_id="QusPfLgOHNg" width="640″ height="480″ anchor="click here to open YouTube video" auto_thumb="1″]
From my studio to you and someone you care about who loves flowers.
I guarantee your gift is produced with care along with good feelings and happy thoughts. The print will look beautiful standing on a table or (easily framed.) The ribbon hand-tied matching notecards are very impressive and make wonderful blank notecards. And the miniture card is there for you to write a personal note to who you  give the this gift to.
Click on each gift to see enlarged and all the infromation